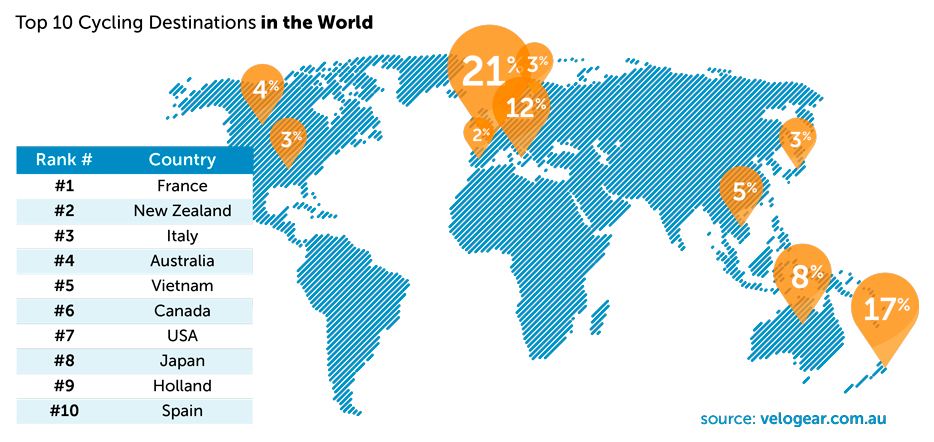 Cycle Tourism is a growing industry as more travellers seek an activity based holiday with a high degree of environmental sustainabilty.
In August 2015 cycling e-tailer Velogear conducted a survey over a 120,000 cycling enthusiast database.
They asked: "In which country would you LIKE to next have a cycling holiday?"
---
#1 France
With a staggering 21% of votes France has been voted the #1 cycling destination in the world. Whether it be MTB, Road or just casual cruising the combination of history, staggering beauty, great food and wine, and a strong local bike culture make it a hard destination to beat! Riders can follow in the tracks of the Tour de France or safely meander on part of it's 20,000km of cycle trails through any of its 22 regions.
www.au.france.fr
#2 New Zealand
This small country punches way above its weight in cycling tourism. It's close proximity to Australia, stunning landscapes, friendly locals and arguably the best cycling holiday infrastucture on the planet makes New Zealand the #2 dream cycling destination. Whilst it has 29 regions, each disctinctive in character, with the country being so compact you can easily visit several on your holiday.
www.newzealand.com
#3 Italy
Italy is a great place to have a cycling holiday. Superb landscapes, an incredible variety of routes, excellent weather, great food and unique hospitality. La dolce vita literally translates as "the sweet life" and in Italy means a life of pleasure and simple luxury. The cycling tourist can readily share this in a visit to this vibrant country.
www.italia.it
#4 Australia
As a continent in its own right Australia's huge area offers an incredible range of cycling experiences. From alpine road rides, to multi day off road trail trips and casual rail trail rides there are plenty of options for the stay at home tourist. Cycling tourism infrastucture is nowhere as developed as in New Zealand, so a bit of online research is required to find information, but once there you can find a huge range of world class rides and tours.
www.velogear.com.au
#5 Vietnam
More than 30 million Vietnamese can't be wrong - cycling gives you the best view of this enchanting country.
With country lanes, spectacular mountain passes and great coastal scenery Vietnam is a cycle travellers delight. An added bonus is that a days pedalling gives you a well deserved appetite to enjoy the famous local cuisine.
www.vietnamtourism.com
#6 Canada
Canada is the world's second largest country, covering 25% more area than Australia! Like our own country much of it is remote and difficult to access but there is still a huge network of MTB tracks, rail trails and cycleways. Trip planning takes quite a bit of research but once there, the stunning views and the friendly people it makes it all worthwhile.
www.canada.travel
#7 USA
The USA probably offers cyclists the greatest variety of cycling oppurtunites in a single country. You can huck it in the Moab, ride in cycle friendly cities like Portland or just cruise along Venice Beach..the variety in this vast country is almost endless. Though the USA is known as the car capital of the world, it's natural wonders and vast network of trails and tracks make it a worthy choice on anyone's bucket list.
www.visittheusa.com
#8 Japan
Japan offers an ultra-safe holiday with low traffic speeds and an extremely polite populace. Stunning scenery abounds, the rail system is extremely fast and efficient and of course you have the famous Japanese cuisine. Outside of the main cities the country roads are surprisingly quiet and, by Australian standards, food and accommodation are quite inexpensive.
www.jnto.go.jp
#9 Holland
The Netherlands is a great destination for cycling thanks to its flat landscape, mild climate, short distances and wonderful infrastructure. More than 32,000 kilometres of bicycle paths are waiting for you throughout the country so no wonder that over 31% of Dutch people use a bicycle as their main form of transportation. 
www.holland.com
#10 Spain
The excellent Spanish climate makes it the perfect place to cycle year around. Spain is world famous for its MTB singletracks but also offers 1000's of km of well signposted trails for the casual rider. A relaxed atmosphere abounds and the scenery is diverse - from sparse plateaus, to lush rain soaked hills and mountainous alpine areas.
www.spain.info